When the sun is shining, we can't help but want to be outside! During the summer or any season, outdoor family activities have a special place in our hearts. Not only do they bring the entire family together, but they help make some great memories.
With new locations and parks opening up around the country, there are several ways you can enjoy the wonderful weather. In this article, we'll give you some epic ideas on how you can make your outdoor family activities extra special. In fact, we've got 20 ideas to help you plan your next family outing!
---
20 Outdoor Family Activities
1. Scavenger Hunt
Make your own scavenger hunt or look to the pros for some help. ScavengerHunt.com offers epic outdoor hunts for the whole family. These fun activities are made for kids of all ages. There are puzzles, riddles, and activities for everyone, so even preschoolers can take part.
Monitor the city leaderboard to try to beat the high score or just enjoy the challenge. Not only will you be able to explore the best landmarks in the city, but you'll have a lot of laughs along the way!
---
2. Hiking
Enjoy the best of the wilderness as you take your family on a hiking trip. Parks, lakes, and hills have hiking trails for all levels of difficulty, making them perfect for the entire family. Start with a simple trail that goes on for an hour or two. Your kids will love the change in scene and the greenery all around.
Make sure to do your research here. Pick a trail that is ideal for your children (with few inclines and paved paths). Pack some water, snacks (we love trail mix), and kid-friendly sunscreen. You'll be good to go!
3. Picnicking
We can't enough family picnics. When the weather looks good, head out to a local park and enjoy a picnic. Pack some sandwiches, juice, and other snacks to keep your energy high.
Take a ball or a frisbee so you can play some games. You can plan your visit so that you catch an outdoor concert or carnival. Take a coloring book along so your children will have some quiet time while outside too.
4. Geocaching
This family-friendly activity is a fun way to explore your local area. Geocaching makes walks more exciting! Similar to a treasure hunt, it involves searching for clues and solving riddles to make your way to little caches left by other enthusiasts.
Each find is unique and some are extravagant. It's a great way to get in some physical activity and is enticing for little kids as well as older children. Even adults get addicted!
5. Trampoline Time
Outdoor family activities don't have to be complicated. Set up a trampoline in the yard and watch kids jump their cares away. As they leap up and fall down, you can rest assured they're having a fantastic time as they soak up some vitamin D.
This is a favorite of younger kids, but most older kids won't turn down a trampoline. Watch as they get a little fancier with their moves.
6. Canoeing
Lots of lakes and rivers allow kayaks and canoes. Pick a nearby location and head out. Older children can get kayaks while younger children can chill with the entire family in a canoe.
There is something relaxing and comforting about going on the water. Your kids are sure to remember their first canoe ride for years to come!
7. Lemonade Stand
We don't know about you, but most of our first paid gigs involved lemonade stands! There is no better way to introduce your child to the concept of money, trade, and saving.
Help kids set up a stand by teaching them how to make lemonade, how to price their drinks, and how to market their product. Include siblings and friends in the endeavor—you can even involve the neighbors!
Your children can save the money they made in a piggy bank, or invest it in an even bigger lemonade stand!
8. Retro Activities
Take a trip down memory lane and enjoy old-fashioned outdoor play. You don't even need to leave your own backyard. Grab a few hula hoops, create art with sidewalk chalk, and play hopscotch. You can even roller skate on the driveway!
When the sun gets a little too hot, turn on the sprinklers so you can run through the water and cool off. Use trash bags to make a DIY slip and slide. Who needs a water park?
Set up a barbecue in your backyard so that you can enjoy a delicious meal. After a day of play, cuddle up for movie night under the stars. Set up a projector facing the fence and enjoy your movie outdoors. Summertime fun at its finest.
9. Community Cleanup
Teaching your children to care for the environment is an important part of parenthood. There's nothing better than incorporating a little community service into your outdoor family activities.
This summer, check your neighborhood for beach or park cleanups and take your children there. You can spend an hour or two pickings up plastic and other waste with your children.
When they're done, they'll see how long it takes to collect and dispose of waste; this will make it easier for them to learn about conversation and recycling. In the end, you can celebrate and reward all the hard work with some ice cream or chocolate!
10. Camping
Camping is one of the greatest outdoor family activities! If your children enjoy hikes, they'll likely love camping. Pack up a tent, some snacks, and a blanket and head out to the nearest campground or national park.
If you can't go camping outside, why not try it at home? Set up a tent in the backyard so you can spend the entire day camping there. Your kids can comfortably learn to pitch a tent in a familiar space. You can also try a teepee!
Bask in the sunshine while playing games or going on hikes. Camping is a wonderful way to get some gadget-free quality time. When night falls, roast marshmallows by the campfire. Don't forget to make some s'mores! As the energy of the day starts to fade, sleep under the stars.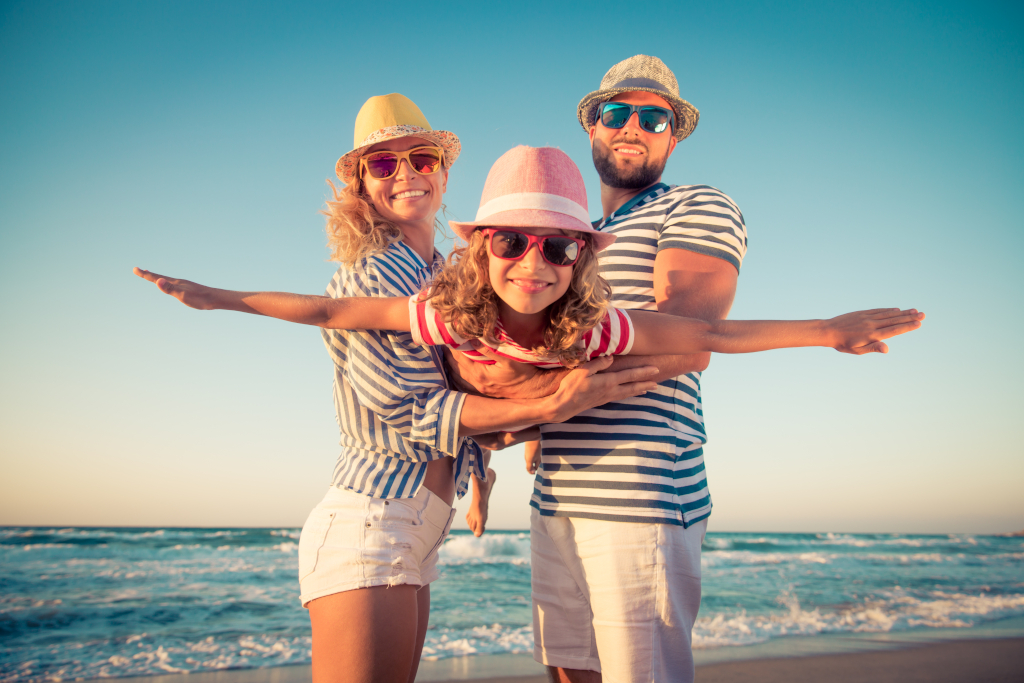 11. Beach Day
When the weather is this nice, being at the beach is a fantastic way to spend the day. Build sand castes using buckets and pails to make innovative structures. Then, you can play some frisbee or go swimming.
In between quick dips in the sea, relax and wiggle your toes in the sand. To make the day extra special, go gadget-less and concentrate on quality time with the family.
12. Outdoor Painting
Kids are always learning from their environment. You can encourage them to learn and grow even more by asking them to paint and draw while outdoors. To do this, set up an art station in your backyard or at a park. Bring a sketchbook, colors, crayons, or paint.
Sit together as a family and draw whatever you see in front of you, be it the clouds, a curious-looking plant, or an animal. When you're done, you can exchange your artwork and talk about what the art meant to you. Don't forget to put up the masterpieces on your wall. Your children will love the recognition!
13. Foam Fun
Looking for laughs? Try your hand with foam games. Combine water with some ready-made non-toxic and biodegradable foam liquid or rent a professional foam machine,
If you want to do this on a small scale, you can make foam inside an inflatable pool outdoors. Go bigger by combining your foam with an inflatable castle or jumping house.
14. Relay Races
If you're looking for competitive outdoor family activities, you can't go wrong with relay races. Ask your children to help you design a few obstacle courses. You can use pillows, chairs, and laundry baskets to create an obstacle course in your backyard.
Once you're done, invite the neighborhood. Make sure there's a mix of adults and children on each team. Increase the difficulty by making one round a potato sack race. Giggles are guaranteed!
15. Water Balloon Battles
This activity is a sure win in our books. Buy water balloons from the store, fill them up, and load them into a big bucket. You could make all the same size or add some variation. Anything works!
Before you begin, establish some ground rules. For instance, throws to the face are not allowed. Have a tap-out word so that your kids can pause the game when it gets too intense. When you're done with the game, dunk a bucket of water over your heads so you can all get drenched!
16. Cloud Spotting
This simple activity is a lovely way to get your children's imagination flowing. Lie down under the clouds with your children one evening, and ask them what they see in the clouds.
Try to let your imagination run so that you can come up with your shapes too. You might spot animals, people, trees, or even some tech gadgets up there (we swear we saw an umbrella-shaped cloud once!). This activity will help you get a unique insight into how your children think.
17. Kite Flying
You can club this activity right after you find shapes in the sky. This activity will keep your children engaged for a few hours because they can make the kites themselves. Before heading out, make the kites at home with your children (all you'll need are paper, string, some bamboo sticks, and tape). Then, go outside and start flying your kite!
Try to schedule this activity with your neighbor and their kids so that everyone can fly their kites together. Decorate your kites with colorful paper and ribbons to make them stand out!
18. Gardening
If you have a backyard garden, encourage your children to get their hands dirty and learn to care for a plant. To begin with, you can ask them to water some plants. Then, they can help you spot weeds so you can pull them out. After they've grown confident, your children can pick veggies, pluck weeds, and plant new seeds. Before you know it, they'd have learned how to grow a green thumb!
If you don't have a garden at home, head over to a local botanical garden. Check online for gardening and farming activities. Your children can pick veggies and leaves, and learn how to grow flowers too!
19. Bike Ride
Biking is timeless. It's one of those go-to activities for outdoor family fun. Spending time with the kiddos traveling down a path or on a trail is exhilarating.
If you have older kids, rent some tandem bikes and have a blast pedaling through a park or city. It'll put a new twist on an old favorite.
20. Nature Walk
If your kids enjoy nature and are looking for new things to do outside, they're sure to love a nature walk. Collect pine cones and pebbles, look for fossils, or inspect moss with a magnifying glass. Nature is so amazing—the options seem unlimited!
You could combine this activity with #1 to create a nature scavenger hunt. Study your surroundings and come up with some ideal spots you'll lead your little explorers. Set up rewards and take plenty of photos to make a day of it.
---
Closing Thoughts
There's nothing like taking in some fresh air while the warm sun beats down upon your face. Combine that with family time and extra fun things to do and you're in for a great time!
Our list should give you enough ideas for at least a few weeks! If you end up with cloudy or rainy days in between, try these indoor activities for kids.
Which of the activities do you want to try first? Let us know in the comment section, or tell us about your favorite fun outdoor activities. Of course, we're partial to a scavenger hunt.
---
Frequently Asked Questions
What are some fun outdoor family activities?
From going on a scavenger hunt to painting outdoors, there are several outdoor family activities you can try. Our handy guide will help you plan the best day outdoors.
What are some outdoor family party ideas?
There are many outdoor activities perfect for family gatherings. Create an obstacle course for relay races, start a water balloon fight, or set up a scavenger hunt. You could even host a foam party!